Dobber(3) and Chloe(2)...I never owned a dog before them, I never knew dogs were so sweet, kind and loyal!
My big dog Dobber he has a very kind and gentle soul, we bought the kids 3 baby turtles and brought the dogs bones (they love when we bring them home treats) we had to run back out and when we came home dobber had given his bone to the turtles..lol..he is the best!
Dobber loves going for car rides
Lol..all 3 dogs love it!
Chloe bear, she loves her bed and blanket..
She can not tell a lie..lol..it too funny she will come tell on her self
She won't look at you
And when she does she snarls!
This is goliath, our bearded dragon. His favorite thing to do is hanging by the window!
Or outside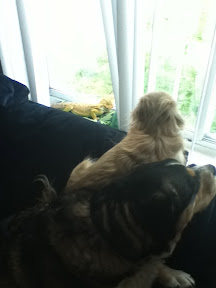 They all love looking outside...